On the 21st of March, to celebrate the International Day of  Forests, the Association du Docteur Fatiha went to Chouihiya for a tree-planting
In Chouihiya, the schoolyard is rather barren. Children don't have so many shadow to protect them from the Moroccan sun. ADF decided to solve the problem.
18 olive trees ware planted in the schoolyard, with the children's help
About 40 pupils helped us planting the young trees. Dispatched into small groups, they could take care of one tree fro A to Z.
For the cildren to better understand and take care of trees
This action took place in the framework of a larger awareness-raising campaign, that ADF leads in Eastern Morocco. Every month, our team visit 6 schools of the region to talk about environmental issues. Last month, it was about recycling. This time, Emmanuelle Pannetier, Project Manager, and Sabah Ouali, Local Coordinator, wanted to focus on forests. What can a tree be used for? What is it composed of? The motto was : a better comprehension for a better protection.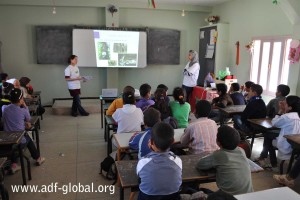 The Association du Docteur Fatiha wants to thank Chouihiya's teachers and principal for their help, as well as el Wafae nursery, in Zaio, who gave us the young trees.
More information :
elise.vanwey@adf-global.org






by