"Cultural heritage and creative cooperatives as driving forces for Human Development in Morocco"
UNDP / Agence du Sud / UNIFEM, UNESCO, UNIDO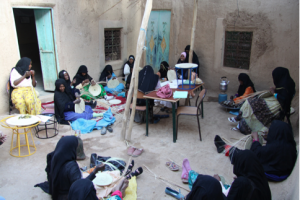 ADF has established a partnership with the United Nations Development Program and the Agence du Sud. The partnership aimed at strengthening 7 cooperatives of basketry and weaving. It was put in place in Guelmin-Es Smara region, in oasis in Southern Morocco.
Those cooperatives, which were already in place, needed support with products conception, and also in finding new outlets.
More than 100 women craft worker are being backed up from the concept development to the commercialization phase. This includes: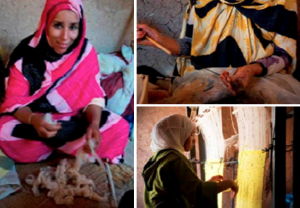 Design : improvement of existing products and creation of new one
Added-value research
Production processes establishment
Technical training and order management
Acquisition of commnication and marketing skills
Support for outlets research on local and international markets
Two designers, Amandine Chhor et Aissa Logerot, travelled to Morocco to back up the craftswomen with the conception of their products, and help them fulfill the international buyers expectations.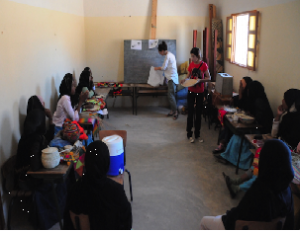 Inspired by the local handicraft heritage, they designed a collection of unique items, which have no difficulty in interesting byers. Those items combine cultural heritage, high value-added and environment-friendliness. You can see a few of the designed items below.

The project is part of the Territorial Sustainable Development Program of the Southern Provinces. This programs aims to safeguard and enhance natural resources and cultural heritage of Southern Morocco Oasis. It relies on capacity building of local actors.
Amongst its partners : the Agence du Sud, several United Nations agencies (UNDP, UNFPA, UNIDO, l'UNIFEM and l'UNESCO), especially in the joint-program "Cultural heritage and creative cooperatives as driving forces for Human Development in Morocco" funded by the UN-Spain Fund for the MDGs.