In may 2013, ADF  set up in Berkane a cartoon workshop, focusing on the plastic bags issue. 17 young people could take part in this chance to give their impression on the environmental situation of their hometown.
1st session: contextualization
Emmanuelle Pannetier, Environmental Education Manager for ADF and Elise Vanweydeveldt, Communications Manager, went to Ibn Rochd Secondary School to meet the budding artists, aged 5 to 13.
The young people learnt how much time it took for a plastic bag to desintegrate into the soil. After having talked about the association's solution to plastic pollution, the debate could begin.

2nd session: let's draw! 
Jean-Michel Vanweydeveldt, graphic designer and cartoonist in the North of France, hosted the workshop. He is used to that: he organized some with schools and specialized centers in his region. But Morocco was a first.
The kids began to imagine a scenario. If the theme was set (plastic pollution), they did not lack ideas to turn it their way.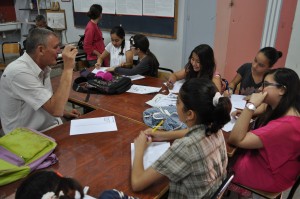 Their plot: a plastic monster attacks Berkane, the Clementine's capital! They choose to make ADF intervene and help them struggle against the giant. The first sketches were drawn during this 2.5 hours session. How to draw a plastic bag monster? And a city? Not very easy at first sight…
3rd session: drawing techniques and hard working

The cartoonist had worked on his side, to gather the kids' ideas into a 2-pages cartoon. The young people then had to realize the final drawings.
First with a drawing pencil, then with a thin black felt pen, they had lots to do! The bullets were not filled: the texts was added on computer, so that we could have both an Arabic and French version.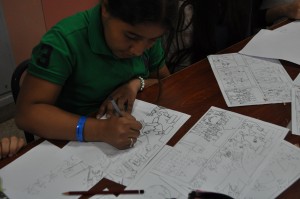 4th session: coloring plastic bags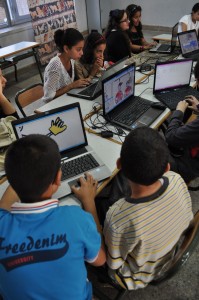 The last session took part without the cartoonist, who had come back to his grey France. The young Moroccans added the color to their drawings on computer. It was not easy to agree on which color to choose on the 4 different parts of the cartoon!
All in all, 10 hours were necessary to create those 2 pages. But the result is worth it.
We are sorry, the cartoon is only available in Arabic and French.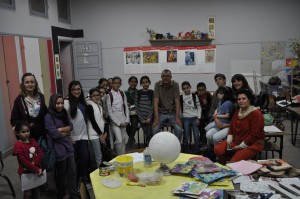 Thanks to everyone for this special workshop!






by