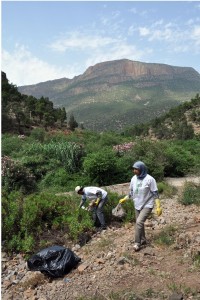 All the region's inhabitants know the place : the Camel Cave. It's the perfect place for a picnic, in the middle of the mountains.
In the core of the Beni Snassen uplands, the cave looks out over the valley of Oued Farrouj, tributary to Oued Zegzel. Considered as a haven of piece and of beauty for its quietness, its landscapes and its fruit trees, there nonetheless a cloud on the horizon : waste.
Now the summer has arrived, it became very difficult to find a small place spared by garbage and plastic waste.
Last 13th of June, ADF decided to act, in order to improve the situation. While explaining to people the importance of protecting nature and this very natural site, a cleaning campaign was led.
With Peace Corps and volunteers from the Youth Center el Majd, from Berkane, the cleaning was efficient. All in all, 18 100-liters bags were filled with garbage. The wonderful site is now free from them. It can now go on being an unavoidable place for leisure in the region.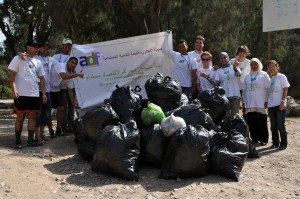 Thanks to the whole team for this great job !






by